Chairman's Message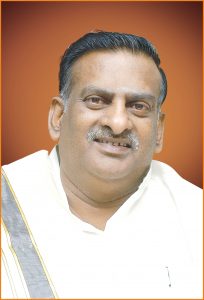 As a dynamic chairman and head of The Sairam Group of institutions & Sapthagiri Educational Trust Shri. MJF. Ln. Leo Muthu, has been a cornerstone of growth and development of this educational institution. Under his vibrant leadership and keen vision, the Group expanded its branch network exponentially, implemented host of pioneering initiatives and enhanced its visibility all over Tamil Nadu & India in medical education since 2001.
Shri. MJF. Ln. Leo Muthu always has been the singular force behind conceptualizing SRI SAIRAM HOMOEOPATHY MEDICAL COLLEGE & RESEARCH CENTRE and making it a dream come true for us. From inception as an idea to its fruition, he envisioned and meticulously worked out every granular detail to perfection. He worked tirelessly in planning and carefully selecting internationally renowned architects, proficient and motivated teachers and other related partners to associate with us. The college takes pride in setting up many firsts in the country including a unique design and use of many pioneering technologies compatible with world standards in medical education.
We salute his dynamism and uncompromising attitude for brilliance which is paving our way towards redefining excellence in education." Sri Sairam Homoeopathy Medical College & Research Centre is our modest effort to etch Shri. MJF. Ln. Leo Muthu's name in the memory of time. Right from the inception in 2001, our stress was on a design that epitomizes our vision of grooming children as well-rounded future leaders through all-round development across education, extra-curricular activities and sports. We also wanted the infrastructure to be seen as a confidence building measure to assure all parents that their children would only get the very best at SRI SAIRAM HOMOEOPATHY MEDICAL COLLEGE & RESEARCH CENTRE.
Our Chairman, MJF. Ln. Leo Muthu, ventured into the realm of providing Quality Education to both urban and rural students from India and other neighbouring countries. He has to his credit various other enterprises such as real estate, industry and various educational institutions. The Sri Sai Ram Engineering College at Chennai, Sai Matriculation Higher Secondary School at Madipakkam and Sri Sai Ram Polytechnic College at Sai Leo Nagar to provide a good training for diploma engineering, Further more Sri Sai Ram Institute of Management and Computer Applications, also a unit of Sri Sai Ram Engineering College, was established in the year 1997 and it offers MBA and MCA programs. Our Chairman has not only stopped with his vision of providing Technical Education and medical education but was also instrumental in starting "The Academy for Blind" and "Home for the aged" under the community service programs of the Lions Club.